The Company
Marchfelder Zwiebel GmbH
Our company name "Marchfelder Zwiebel GesmbH" says it all – we supply our customers with onions (in German "Zwiebel") from the Marchfeld region, which thrives in the fields of our agriculture around Lassee. Years of experience in the onion business ensure excellent goods, which are sorted and packed from September to March according to customer requirements. For many years we have been supplying small and large marketers in almost all Southern and Eastern European countries.
Onions
We use different varieties of onions. The yellow onions we grow include Crockett, Hysky, Spirit, Talon and Hysinger. As for red onions, we use the Red Lady, which has proven itself over many years. All our onions originate from AMAG.A.P. certified cultivations.

Carrots
On request we also supply you with carrots, please contact us for price and availability! 
Our carrots originate from AMAG.A.P. certified cultivations.
Potatoes
On request we also supply you with potatoes, please contact us regarding price and availability!
After the onion harvest in August and September, the onion season starts with the packaging and sale during September and ends in spring at the latest in March.
Due to the production within our family business that has large storage capacities, but also due to the cooperation with selected farmers from the Marchfeld, we are able to offer consistently high-quality goods in different assortments during this period.
In our onion packaging plant, we are able to fulfil any individual wish of our customers while using product-preserving packaging. In addition to the standard sizes of 5, 10 and 25 kg in net bags, we also pack in big bags on request. The standard labelling of the bags is in German and can be done in the respective national language on request. The labels of the bags are printed with our company name, the product name, size, weight and quality class. Sorts are possible from 40 mm, the standard sorts are 40-60 mm, 50-70 mm.
For current prices and product information please contact Joachim Valis +43 664 460 61 65. Unless otherwise agreed, prices are always "ex works" from station 2291 Lassee and are agreed on a weekly  basis.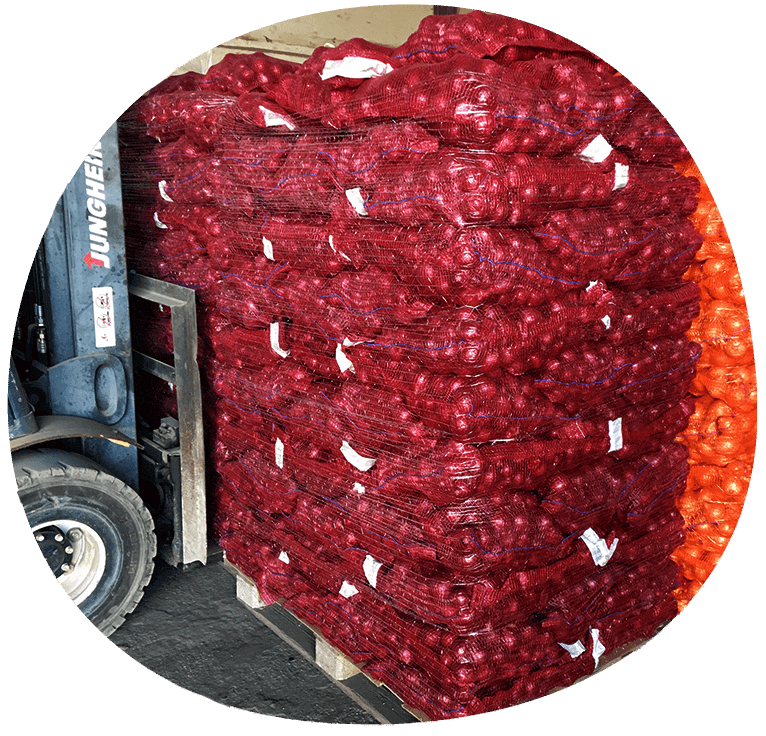 Our farm is located about 25 km east of Vienna in the middle of the Lower Austrian vegetable growing region Marchfeld. The Marchfeld is the largest onion and potato growing area in Austria.
Fertile soils, a suitable climate and targeted irrigation therefore allow products of the highest quality to flourish.
Due to the proximity to Vienna and the eastern neighbouring countries Slovakia, Czech Republic and Hungary, our company is easily accessible.